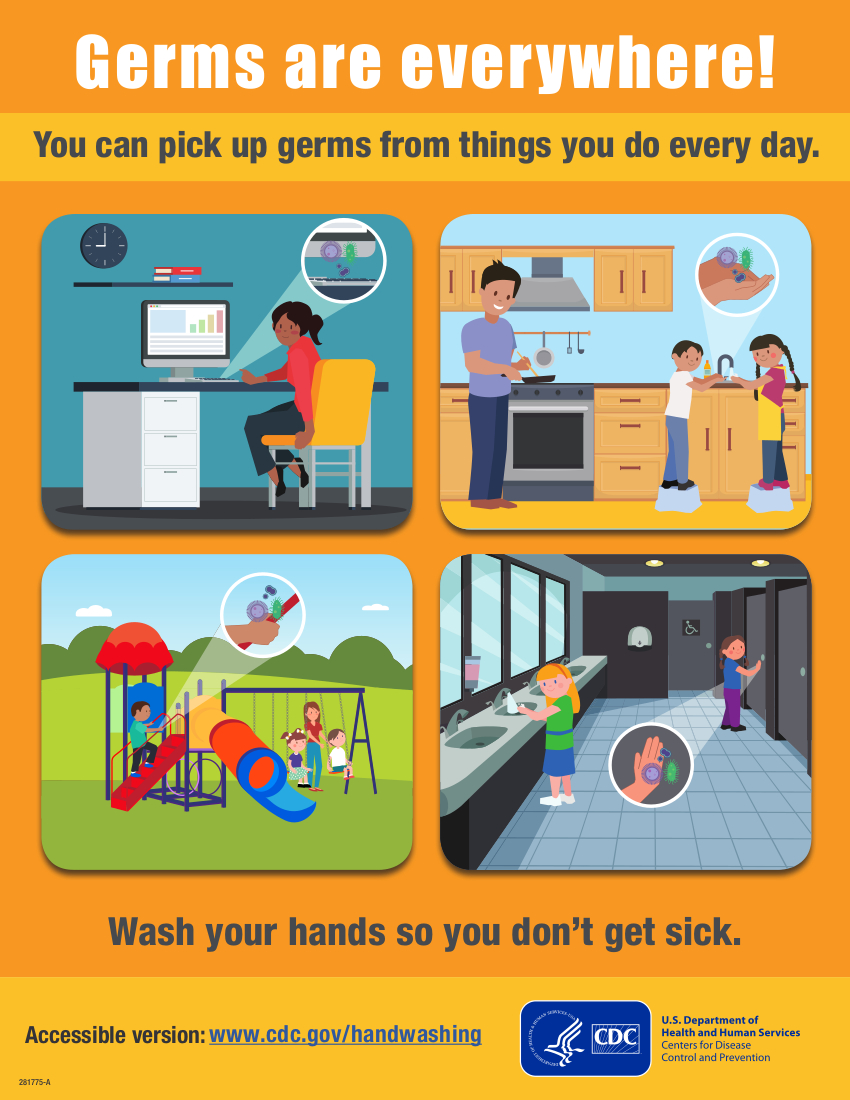 Poster is from Centers for Disease Control and Prevention
Priority against Coronavirus
---
Introduction
There are misunderstandings of how to protect yourself against Coronavirus. In particular, this article discusses the priority to protect yourself.

There are many opinions including mine, but the only opinion that is important is God. Have devotion time and find out What Does God Says about protecting yourself. Below is my opinion about Coronavirus.

God gave His opinion in the bible. The bible has solutions to life's problems. Dealing with Coronavirus is no exception. While the bible does not specifically mention Coronavirus, it does mention God's Wisdom in dealing with contagious diseases (i.e., leprosy, dead body, etc). Use identical strategy in dealing with flu, virus, cold, SARS, Coronavirus and its variants, etc.
Highest Priority: Wash your hands
The bible mention clean, cleanse, cleaning, and other derivatives of clean numerous times. In Levicitus, Number, and Deuteronomy, clean and its derivatives are mentioned 350 times. Ignore the legalism, but grasp the godly principle of these laws. People were going out for the day - hunting, tending flocks - and later, farming, building homes, etc. The principle is wash up before returning to camp and if you touch something filthy, really, really, really clean yourself.

During Jesus's earthy life, the Jews were cleaning everything before eating. Again, ignore the legalism, but grasp the godly principle of these laws. Ensure foods entering the mouth are clean by cleaning hands and utensils.

Be a clean freak and wash your hands often - especially before/after touching items like door knobs, meals, other people's items, etc. If there is sink nearby, use soapy water instead of infection wipe. Also use your soapy hands and slap your face - no need for a face towel. Soapy water causes Coronavirus to shatter, while using infection wipe, you need to scrub, scrub, scrub. For more, see

The coronavirus is no match for plain, old soap — here's the science behind it
April 8, 2020 &nbsp Palli Thordarson
https://www.marketwatch.com/story/deadly-viruses-are-no-match-for-plain-old-soap-heres-the-science-behind-it-2020-03-08

If your ministry/work serves food, consider roping the food line to past a sink and force the eaters to wash their hands before touching serving spoons. You will need extra soap, extra paper towel, a garbage can, a stool (if there are children), and ushers (if needed).

People should be washing their hands often even if there no plague. God's Wisdom for the OT Jews to be clean applies for today. This command is INDEPENDENT of whatever plague (virus including Coronavirus, flu, cold, etc) is happening.

For more, see the old article

Precautions against Coronavirus; 3/20; updated 2/21
http://www.ooylt.info/OtherArticles/Coronavirus.php
-> Wash Hands


High Priority: Guard Your Immune System
The bible hints at what God's original design for creation. On the third day of creation, God created plants and said "it is good". Creatures before the Fall or Adam and Eve - not before the flood, but much earlier - were eating produces from plants - not other creatures or mineral-based foods (e.g., salt). The bible hints on good eating lifestyle. Creatures were living forever before the Fall. And they were living very long times after the Fall, but before the Flood. The bible hints at ways to guard our immune systems.

Eat healthy

Eat a high percentage of God-made food. See

Is the food you are eating God-made or man-made?

instead of eating just junk foods. Learn the difference between natural and processed sugar, unsaturated and saturated fat, hybrid and GMO foods, and about unhealthy processed food. It is better to satisfy your sweet tooth with grape, pineapple and coconut than with sugary donut and frosted cake. It is better to satisfy your craving for fat with nuts, avocadas, and olive oil than with buttery croissants and fried foods.

If your ministry/work serves food, be sure it is healthy.


Do not eat blood

There are numerous bible verses instructing us not to drink the blood. This command is not just a Leviticus law but given to Noah and confirmed in the NT. See Gen 9:3-4, Lev 3:17, Deut 12:15-16, Acts 15:19-20, and Acts 21:25.

For more, see the old article

Precautions against Coronavirus; 3/20; updated 2/21
http://www.ooylt.info/OtherArticles/Coronavirus.php
-> Avoid Eating Blood


Fast every now and then

Fasting strengthen your immune system. It is not hard physically. But the first few time, it may be a challenge spiritually. The evil one will keep whispering to you: "you are going to die", "you are hungry", "eat alittle something", etc. A good read is

Dr. Perlmutter: Fight COVID-19, Alzheimer's, and More With This Ancient Practice
07-08-2020 &nbsp Lorie Johnson
https://www1.cbn.com/cbnnews/health/2020/july/fight-coronavirus-with-this-biblical-practice


Medium Priority: Social Distance
The bible mention stay away from those whom have leprosy. And if you need to deal with them, really, really, really clean yourself. The same is true for other diseases. Keep your distance from those whom are sick. And if you need to deal with them, really, really, really clean yourself.

Social distance without face mask is better than being close with face mask. Think! Two people are talking to another. Person A is infected while person B is not. Person A did not wash hands. That person waves hands while talking and throw the virus onto the pant of person B. Later person B scratch his leg. And then even later at home, person B removes the face mask and prick the nose. Person B is now infected. With social distance, the virus has no chance of reaching person B. This scenario also shows the importance of washing hands often - especially before and after using face mask.

For more, see

What does the Bible say about social distancing?
S. Michael Houdmann | date unknown
https://www.gotquestions.blog/social-distancing.html

Social Distancing in the Bible
SAROLTA TATAR | Aug 12, 2020
https://medium.com/christian-history-and-culture/social-distancing-in-the-bible-cff1a7c2e932


Low Priority: Vaccine
The principle of vaccine is fine, but the way it is done is immoral. An indemnification law was passed to protect the vaccine developers. Many vaccine developers pushed their potions regardless whether their potions caused major side effects including deaths and severe reactions. Without this indemnification law, many vaccine developers should had been sued millions of dollars by hundreds of people. Take away this indemnification law and things will be much better.

You can't sue Pfizer or Moderna if you have severe Covid vaccine side effects. The government likely won't compensate you for damages either.
MacKenzie Sigalos | 12/16/21
https://www.cnbc.com/2020/12/16/covid-vaccine-side-effects-compensation-lawsuit.html

Vaccine is not a magic bullet. It does not protect you fully - just lower the chance of you getting Coronavirus and reduce the sickness if you do get infested. Furthermore many vaccines do not protect you well against Coronavirus variants. Washing up, protecting your immune system, and social distancing are higher priority.

Some vaccines are sinister. They destroy your immune system while only marginally protect you from Coronavirus. If you have been mRNA vaccinated (Plifer, Moderna, etc: not sure about other vaccines), chances are high that you have too much metals in your body. Proof: Grab a refrigerator magnet and slap it onto your upper arm where you have been vaccinated.

To reduce the amount of metals, you need to spike protein detox. As of Jan 2022, this research is still evolving.

Spike Protein Detox Guide
World Council for Health | November 30, 2021 Updated March 9, 2022 (expect more updates)
https://worldcouncilforhealth.org/resources/spike-protein-detox-guide/

It is also important to kill blood clots caused by these metals. See the last section of

Embalmers Find Veins and Arteries Filled With Rubbery Clots
February 19, 2022 | Dr Joseph Mercola
https://z3news.com/w/embalmers-find-veins-and-arteries-filled-with-rubbery-clots/

Below is a short list of Coronavirus vaccines distributed or will be distributed in USA as of 4/20/21 (sorry, this list is out-of-date). Vaccines still in phase 1 or earlier are ignored.

Lowest Priority: Face Masks
ñ€ω ω0®1Ð 0®Ð€® (= ⓜ@®ⓧ¡$ⓜ =$0¢¡@1¡$ⓜ) is continually trying to control people with face mask. People whom wear face mask are living in FEAR due to False Evidence Appearing Real.

New Study Shows Mask Mandates Had Zero Effect in Florida or Nationwide, But the Lie Continues
Scott Morefield | Dec 21, 2020
https://townhall.com/columnists/scottmorefield/2020/12/21/new-study-shows-mask-mandates-had-zero-effect-in-florida-or-nationwide-but-the-l-n2581879

These 12 Graphs Show Mask Mandates Do Nothing To Stop COVID
Yinon Weiss &nbsp October 29, 2020
https://thefederalist.com/2020/10/29/these-12-graphs-show-mask-mandates-do-nothing-to-stop-covid/

Lockdowns and Mask Mandates Do Not Lead to Reduced COVID Transmission Rates or Deaths, New Study Suggests
Stephen C. Miller - August 26, 2020
https://www.aier.org/article/lockdowns-and-mask-mandates-do-not-lead-to-reduced-covid-transmission-rates-or-deaths-new-study-suggests/

The Face Mask Debate Reveals a Scientific Double Standard
Hilda Bastian &nbsp 04.08.2020
https://www.wired.com/story/the-face-mask-debate-reveals-a-scientific-double-standard/

Fauci's Lies and the Political Cowardice of Mask Mandates
William Sullivan &nbsp July 27, 2020
https://www.americanthinker.com/articles/2020/07/faucis_lies_and_the_political_cowardice_of_mask_mandates_.html

It is also best to be outside. The Coronavirus infection is significantly less than inside. Outside, face mask is not needed, but do wash up and social distance.

A year into the pandemic, it's even more clear that it's safer to be outside
Karin Brulliard and Lenny Bernstein &nbsp April 13, 2021
https://www.washingtonpost.com/health/2021/04/13/covid-outside-safety/

Risk Of Catching Coronavirus Inside vs. Outside: Here's What To Know
Lindsay Holmes &nbsp 05/27/2020 | Updated November 20, 2020
https://www.huffpost.com/entry/what-is-risk-of-catching-covid-19-inside-vs-outside_l_5ecd3aeec5b6de82df1e2ef8

NY Times Admits Outdoor Transmission of Covid Almost Non-Existent
May 11, 2021 &nbsp Worthy Watch
https://worthy.watch/ny-times-admits-outdoor-transmission-of-covid-almost-non-existant

Face mask can give you a false sense of security.

Do masks merely bring a false sense of security? RN thinks so…
July 24, 2020 &nbsp Chris Woodward (OneNewsNow.com)
https://onenewsnow.com/culture/2020/07/24/do-masks-merely-bring-a-false-sense-of-security-rn-thinks-so

Do masks promote a false sense of security?
Daniel Berger | May 2, 2020
https://www.kevinmd.com/blog/2020/05/do-masks-promote-a-false-sense-of-security.html

Don't let DIY and non-medical masks give you a false sense of security, experts say
Scott Broom &nbsp April 2, 2020
https://www.wusa9.com/article/news/health/coronavirus/wearing-masks-is-ok-but-still-follow-other-guidelines-on-staying-at-home-and-social-distancing/65-ff817f4a-1647-4245-a4d7-ef046622d51c

IMHO, face mask is very low priority. Washing up, protecting your immune system, and social distance are more important. Good reads are:

COVID-19 and face masks: To wear or not to wear?
Yella Hewings-Martin &nbsp July 3, 2020
https://www.medicalnewstoday.com/articles/covid-19-and-face-masks-to-wear-or-not-to-wear

8 Reasons Why I Don't Wear A Mask And You Probably Shouldn't Either
Scott Morefield Jun 01, 2020
https://townhall.com/columnists/scottmorefield/2020/06/01/8-reasons-why-i-dont-wear-a-mask-and-you-probably-shouldnt-either-n2569786

Many government officials, whom propose wearing face mask at all time, are ñ€ω ω0®1Ð 0®Ð€® puppets. Their desire is to control the people. Many of them are hypocrites. They make stringent rules and do not follow them. See

Roster of COVID-19 hypocritical politicians grows
by Joseph Simonson | December 02, 2020 03:07 PM
https://www.washingtonexaminer.com/news/roster-of-covid-19-hypocritical-politicians-grows

'People hate hypocrisy': Anger high when politicians break coronavirus rules
JULIET WILLIAMS &nbsp The Associated Press &nbsp December 19, 2020 &nbsp Updated December 19, 2020
https://globalnews.ca/news/7533650/coronavirus-politician-hypocrisy/

California politicians skewered for social crimes in the age of coronavirus
CARLA MARINUCCI &nbsp 12/03/2020
https://www.politico.com/news/2020/12/03/california-politicians-skewered-for-social-crimes-in-the-age-of-coronavirus-442604

My position: If you are going to wear a face mask, do it right. Wear a N95 face mask and wear it with care like a medical professional. Otherwise do NOT expect face mask to protect you - wear no face mask OR wear a transparent mask + let others see the joy of the Lord on your face. If you decide to wear a N95 mask, see

How to Put on and Remove a Face Mask
https://www.sfcdcp.org/communicable-disease/healthy-habits/how-to-put-on-and-remove-a-face-mask/

Many rigid transparent masks are too low - do not cover the nose if you have a tall head. Also they are non-sealing and easy to breathe. Sealing is not important, since you are not expecting face mask to protect you. Suggested transparent masks are

SILVER BLING Clear Face Mask | Completely Clear face mask with BLING! Clear Mask with nose wire; Invizimask | Simple Vibe
https://www.etsy.com/listing/1060298873/silver-bling-clear-face-mask-completely
# reusable?; made in USA

Clear mask Anti Fog With All In One Adjustable Ear And Neck Strap PATENT PENDING
https://www.etsy.com/listing/786826068/clear-mask-anti-fog-with-all-in-one
# reusable; made in USA

5pcs+ Upgraded Longer anti-fog ultra light, Easy breath, Transparent Clear Mask Mouth Shield
https://www.etsy.com/listing/986930843/5pcs-upgraded-longer-anti-fog-ultra
# reusable; made in Korea

Clear face shield Reusable 2 Set 1 Replacement face Shield 6" , Cover Eye, Cover Nose and Mouth - Anti-Fog Transparent Mask
A https://www.etsy.com/listing/840313304/clear-face-shield-reusable-2-set-1
# reusable; made in Korea


Summary
ñ€ω ω0®1Ð 0®Ð€® politicians are constantly perverting the priority to resist Coronavirus. Specifically, they want control people - making them wear face mask and be "deadly" vaccinated.

The top three priorities are wash up, protect your immune system, and social distance. These strategies are mentioned in the bible. I would listen to what God says about protecting yourself, not ñ€ω ω0®1Ð 0®Ð€® puppets.


---

Raymond


---

This article is at

CoronavirusPriority.php (Priority against Coronavirus; 6/21)

and is a successor of

Coronavirus.php (Precautions against Coronavirus; 3/20; updated 2/21)

Updates and further insights are at

CoronavirusUpdates.php (Precautions against Coronavirus: Updates and Insights; Semi-current)

A food-related article is

GodMadeFood.php (Is the food you are eating God-made or man-made?; 8/19)



---

Raymond


---

Last modified on 5/28/22

© Copyright 2022