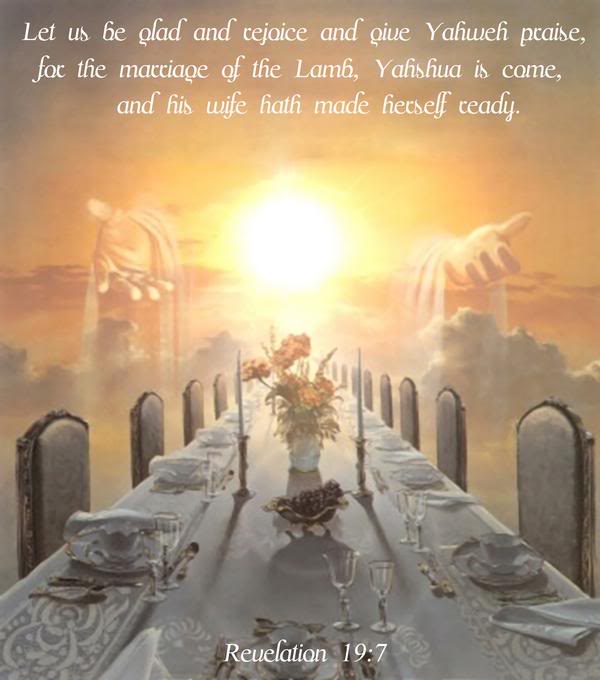 One of the Predictive Prophecies John received in Revelation
Public domain picture from photobucket.com
How to Interpret Predictive Prophecies
Predictive prophecies are problematic. They caused (and still causing) much divisions and rifts in the body of Christ. It is important that we view predictive prophecies correctly and that predictive prophecies are shared correctly. Predictive prophecies may or may not occur depending on how the people respond to them.

It is important to avoid extreme theology about predictive prophesies. One extreme is to say predictive prophesies are not for today. The other extreme is to overreact - "run away" with predictive prophecies. These two extremes had caused divisions in the body of Christ.
Figure out the Condition(s) of the Predictive Prophecy
When one receives a prophecy, ask Jesus whether the prophecy is from Him, oneself, or from the evil one. If from Jesus, discern the correct response to the prophecy. If the prophecy is predictive, figure out what is(are) the condition(s).

Example 1: Prophecy: A hurricane will pass through DC.

This prophecy is a call to prayer. If everything happens in its natural course, a hurricane will pass through DC. This prophecy was actually quoted during the early 90s. That year a hurricane headed for DC, but blimped around DC, and before continuing northward. People prayed and used the authority given by Jesus to divert the coming possible destruction.

Is 62:6-7 OOYLT
`On thy walls, O Jerusalem, I have appointed watchmen, All the day, and all the night, Continually, they are not silent.' O ye remembrancers of Jehovah, Keep not silence for yourselves, And give not silence to Him, Till He establish, and till He make Jerusalem A praise in the earth.

Amos 3:7 OOYLT
For the Lord Jehovah doth nothing, Except He hath revealed His counsel unto His servants the prophets.

Lk 10:18-19 OOYLT
and he said to them, `I was beholding the Adversary, as lightning from the heaven having fallen; lo, I give to you the authority to tread upon serpents and scorpions, and on all the power of the enemy, and nothing by any means shall hurt you;

Just because something does not happen, does it means that the prophet is false. Prophets are "watchmen on the wall" and they are to warn God's People when calamities are coming. It is not God's desire that bad things happen. God warns His People when calamities are coming. It is the responsibility of God's People to intercede to prevent those bad things happening. The body of Christ has the authority and power to alters everything including events and nature.


Example 2: Prophecy: Revival will come to this nation (USA).

This prophecy will happen if fervent prayers are made by God's People. It is NOT an excuse to not pray. Rather, God's People is to be praying for revival using this prophetic message.

Eph 6:17b OOYLT ... and the sword of the Spirit, which is the saying of God,

The Greek word used is Rhema, not Logos. Logos means God's infallible Word, namely the bible. Rhema means God's fallible Word, namely predictive prophecies. God's People is to fight with predictive prophecies (as well as bible) to bring these God's Rhema Words to past.

Too often people hear a nice prophecy and just sit on it. That is wrong. Believers are to intercede using the predictive prophecies as spiritual weapons.
"Positive" predictive prophecies fail because the recipient(s) did not meet the conditions - conditions like not praying, not believing, not examining inwardly, not repenting of sins, etc. "Negative" predictive prophecies occur because the recipient(s) did not meet the conditions - conditions not praying, not repenting in behalf of others, etc.

Predictive prophecies are not one way streets. It is vital that recipient(s) does(do) his/her(their) part and trust Jesus to do His part.
Useful Articles (about using predictive prophecies)
Useful Articles (about administrating predictive prophecies)
Prophetic Passions and Protocols, Francis Frangipane, Sept 2016
http://globalpropheticvoice.com/index.php/prophetic-words-and-articles/prophetic-words/prophetic-words-new/1928-prophetic-passions-and-protocols-francis-frangipane
Summary
If used correctly predictive prophecies are blessings from God. Predictive prophecies are God's Rhema Words used to alter history. God's People has the authority and power to establish God's Kingdom using God's Rhema Words as prayer weapons.


---

Raymond

Last modified on 8/25/17

© Copyright 2017